Binge Eating Disorder – Discover Ways to Heal
BTCF Founder Debra Hopkins chats with Dr. Gia Marson
along with a Q and A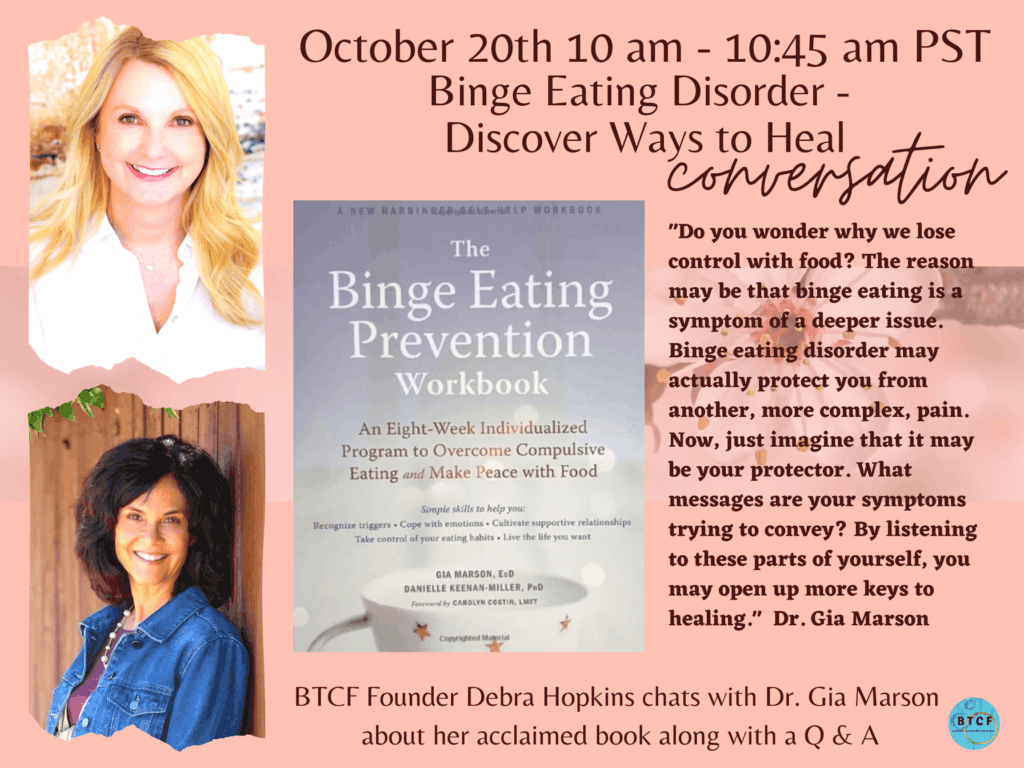 ABOUT: Dr. Gia Marson is a psychologist, author, consultant, integrative medicine health coach, lecturer, and longtime meditation practitioner in private practice in Santa Monica, CA. She is the psychologist consultant for UCLA's Medical Outpatient Feeding and Eating Disorders Program & was the Founder/Director of the UCLA CAPS Eating Disorder Program and a psychologist-member of the UCLA Athletic Care Committee including working closely with the Department of Athletics to support the well-being of athletes. She has been a clinical supervisor for psychology interns and postdoctoral fellows, a clinician at The Renfrew Center & at The Monte Nido Treatment Center.
Dr. Marson is a member of the Academy for Eating Disorders, the Los Angeles Psychological Association and an advocate for Health at Every Size. She is co-creator of www.PsychologistSecrets.com, a hub for bringing the science of psychology into the light.
Dr. Marson has been a featured, expert contributor for NBC, for Maria Menounos' book The Everygirl's Guide to Life and was the host and co-writer of the University of California's PSA on Eating Disorders. She lectures and writes about body image and eating disorders. Dr. Marson is an expert contributor to www.recoverywarriors.com. Additionally, Dr. Marson has been a long-time Clinical Director on the board of Breaking The Chains Foundation (BTCF) where her outstanding work, service, and care continues as a BTCF Clinical Contributor.