Alex Little
"By acknowledging the power of others' presence, we begin seeing and listening to one another and we, individually are more and more willing to be seen and heard."
Top Photos by: Bella Moxi @bellamoxidance
BTCF sat down and chatted with International Dance Master Teacher/Choreographer and Breaking The Chains Foundation Board Member, Alex Little to discuss everything "7 Chairs, her creative process, and what inspires her! Click here for Alex's feature interview.
Lower Photos by:  6iXTEEN89 Photography @6ixteen89photography
PREVIOUS FEATURED ARTISTS
MIKE COLLINS: Co-Owner of Shockboxx Gallery
Established in March 2017 by Mike Collins and Laura Schuler, ShockBoxx continues to host several emerging artist group shows and solo shows each month and has become a destination for those seeking a night of culture in the South Bay. Showcasing themes that are rarely found elsewhere. ShockBoxx features artists in popup style shows which always leaves patrons wishing for more.
BTCF sat down and chatted with Mike about his art and more.  Click here for Mike's feature interview.
Mike's next show is March 23rd, 5 – 9pm. Visit the www.shockboxxproject.com for more information.
Being a Creative Introvert with Marlowe Peyton
Meet the multi-talented Marlowe Peyton. In addition to her acting career, she is also a talented singer, songwriter, producer, and animator. With a long list of acting credits and her first animated project "Parker Bubblegum" accepted into the 2018 AOF Film Festival she is well on her way to success. Marlowe is a member of the Young Hollywood campaign for Breaking the Chains Foundation. Hear what she had to say when BTCF sat down and asked her some questions about being a creative teen, Creative Teens In Motion.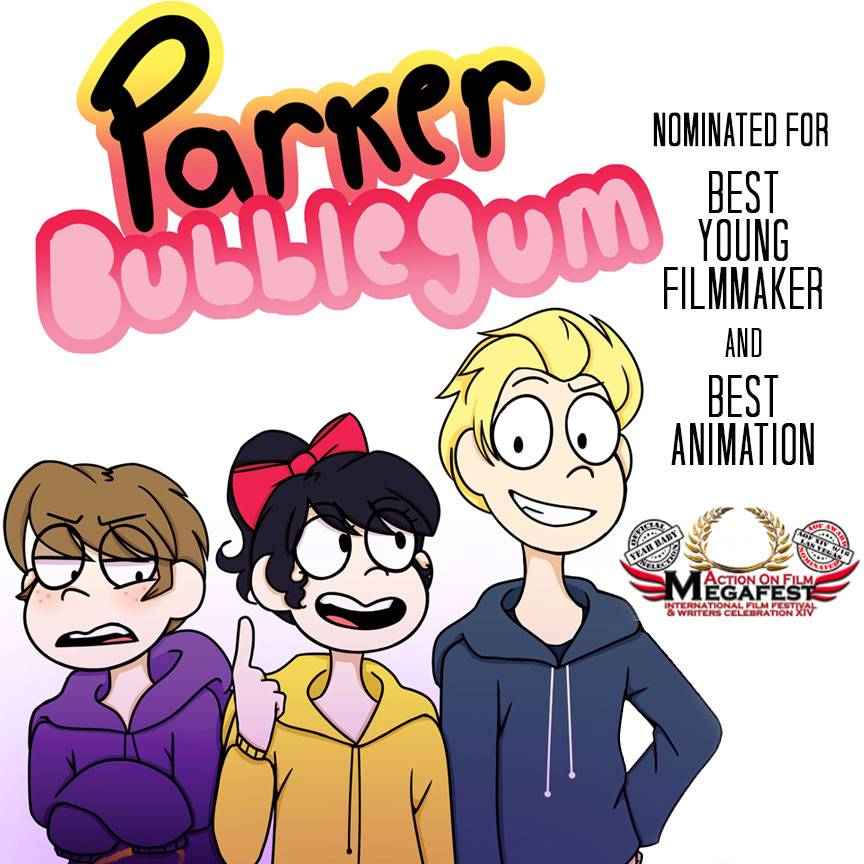 Marlowe officially started her acting career at the age of four and has continued to work on both large and small screens ever since. She has been blessed with the opportunity to have worked with some very prestigious directors; Christopher Columbus, Alan Poul, Alisa Statman, Pamela Fryman, Randall Einhorn, Paul McCrane, Nahnatchka Khan to name a few.
All of those incredible experiences and her love of animation and storytelling have led her to create "Parker Bubblegum." Marlowe is an avid illustrator, writer and singer/songwriter, who is greatly inspired by Alex Hirsch, Rebecca Sugar, and Mel Brooks.
For the past 2 years Marlowe has been carefully crafting the world of "Parker Bubblegum," which has been nominated at two major film festivals for "Best Animated Short" -Action On Film Festival and "Best Children's Film" – Hollywood Dreamz International Film Festival in addition to these Marlowe has also been nominated in both festivals for "Best Young Filmmaker" which is a testament to her work as the creator, illustrator, writer, actor, and director of "Parker Bubblegum."
Marlowe's offbeat sense of humor and pure dedication has led her to create an incredibly interesting diverse cast of characters portrayed by an incredible cast. A group of talented actors has stepped up to support her vision allowing her to begin to bring the "Parker Bubblegum" universe to life.