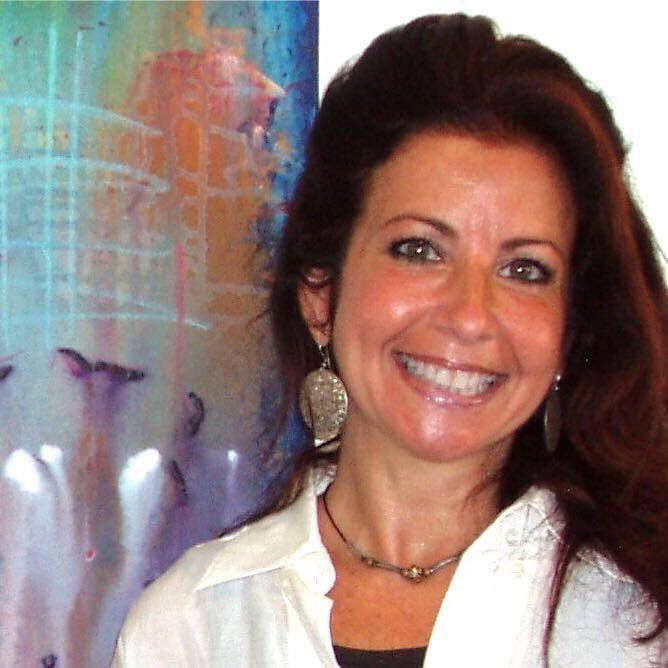 Ellen Spencer
Ellen Spencer is a well known artist and longtime environmental activist. Her work reflects her passion in the celebration of life and its connection to our environment. Ellen is originally from the Boston area, but has been residing in the San Francisco bay area for the past fifteen years. She excited to announce she is back in New England! She currently has her studios in Oakland, California and now also in Boston, MA. Ellen has been professionally painting for many years and is also an author and published poet. She has spent years successfully exhibiting and selling her works throughout the United States and has received numerous awards.
Her work has been hailed as, "exuberant and exciting" by New York's Art Speak magazine. She is currently represented by The Artists Alley Gallery in San Francisco, ARTworks Gallery in San Francisco, Agora Gallery in New York, 57th Street Gallery in Oakland, A-Forest Gallery, New York, Marziart Gallery, Germany and Monkitree Gallery in Gardiner, Maine.
"As ​ ​an ​ ​artist ​ ​and ​ ​an ​ ​activist, ​ ​my ​ ​work ​ ​represents​ ​the ​ ​strength ​ ​and​ ​unity​ ​inherent​ ​in ​ ​the human ​ ​spirit.​ ​​ ​My ​ ​paintings​ ​celebrate​ ​what​ ​is​ ​possible ​ ​when​ ​people ​ ​come​ ​together ​ ​as one."
"Each ​ ​painting ​ ​has ​ ​a​ ​feeling ​ ​of​ ​its​ ​own ​ ​and​ ​is​ ​done​ ​in ​ ​different ​ ​mediums.​ ​The​ ​colors ​ ​are vivid ​ ​and​ ​rich ​ ​reflecting​ ​the ​ ​myriad ​ ​of​ ​emotions​ ​that​ ​I ​ ​bring ​ ​to​ ​my​ ​work.​ ​The​ ​textured pieces ​ ​use​ ​a ​ ​multitude ​ ​of​ ​dried​ ​herbs,​ ​and​ ​many ​ ​other​ ​natural ​ ​objects. I​ ​encourage​ ​you to ​ ​bring ​ ​your ​ ​own​ ​experiences to ​ ​the ​ ​viewing​ ​of​ ​my​ ​artwork ​ ​and ​ ​freely ​ ​interpret the imagery ​ ​according ​ ​to​ ​your​ ​own​ ​imagination."​ ​
A longtime environmental activist and artist, Ellen Spencer creates paintings that explore the themes of the environment, body and spirit. In her  innovative, richly textured works, Spencer uses a combination of traditional paints and unorthodox media such as dried herbs and other natural objects. Abstract and sophisticated, these works invoke a primitive strength and sense of universal unity: through a spectrum of natural colors and textures inspired by earth and atmosphere. Spencer's art seeks to uncover the beauty inherent in the organic world. At once ebullient and elegant, Ellen's paintings describe the timeless, innate link between people (women) and the environment. Spencer has participated in numerous solo and group shows throughout the United States and has won many awards for her art. Originally from the Boston area, she now lives and works in both Oakland, California and New England!