Canvas of Culinary Arts BTCF Fundraiser
Cooking Live
NOLA CELEBRITY CHEF GASON
Saturday, March 13th, 2021
10 – 2p PST / 12 – 4p CST / 1 – 5p EST
Vote for favorite ingredients & New Orleans Trivia during the PRE-FUNDRAISING events happening NOW!
Due to technical issues, we remain to leave the campaign open – please click here to view the live and please click on the campaign page to donate and still win rewards and prizes.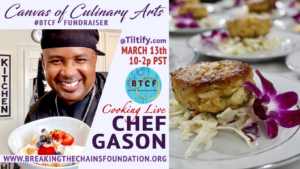 BTCF is thrilled to partner with NOLA Celebrity Chef Gason for a 4-hour live stream cooking fundraiser, Canvas of Culinary Arts. This event will air live on Tiltify.com and BTCF FB  Chef Gason and his team have kindly contributed their time, talent, and resources to the Canvas of Culinary Arts Fundraiser. Proceeds will help BTCF provide services and education to those struggling with eating disorders, disordered eating, and negative body image relationships. 
Chef Gason will engage you in the culinary experience, respecting all food, the preparation process, and the enjoyment of food. He believes plating is a canvas for one to express yourself and to use your imagination. The possibilities are endless, have fun, shared experiences and create memories with families and friends while having a purpose that can be bold and exciting!
You don't want to miss the cooking, recipes, challenges, rewards, surprises, prizes, beautiful video performances, testimonies, including celebrity visits, and much more.
ABOUT CHEF GASON
NOLA Chef Gason Nelson is a Global Cooking Instructor for 'The Chef & The Dish,' a Private/Personal Chef/Owner/CEO of "Full of Flavor" in New Orleans, and a National Featured Chef in many publications and television programs, including Food Network's 'Chopped,' Readers Digest, Sports Illustrated, and New Orleans's morning shows to name a few. He is a two-time James Beard Scholar and was also named Louisiana top 25 Best Chefs of 2017 and 2020. His celebrity clients include celebrities Dwayne 'The Rock' Johnson, Matthew McConaughey, Sinbad, the Kardashians, and NBA and NFL Players like Aaron Brooks, DeMarcus Cousins, Reggie Bush, Chris Paul, and Ben Watson. He is also a long-time supporter of Breaking the Chains Foundation!