How to Love YourSelfie LIVE!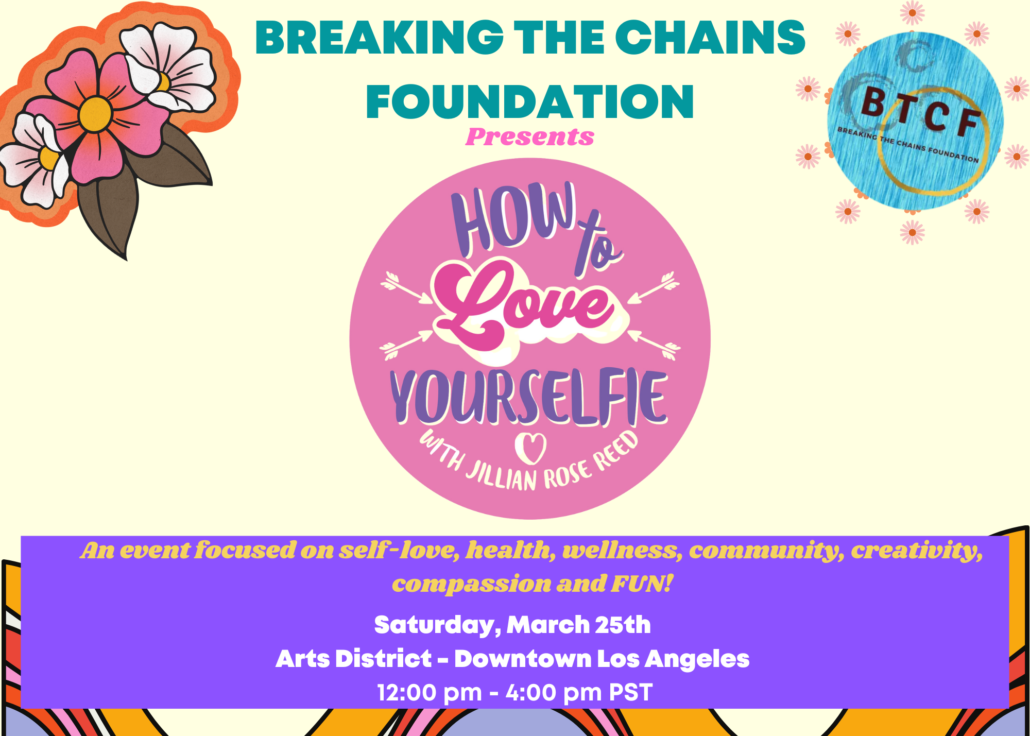 Join us for the ultimate self-love, health, wellness, community, creativity, compassion, and FUN event!
When: Saturday, March 25, 2023
Time: 12:00- 4:00 pm PST
Where: Downtown Los Angeles (check emailed ticket confirmation for exact location & parking information)
Tickets are not transferable. Space is limited! Order now to secure your tickets!
Tickets: $50.00
Refund Policy: *This is for charity. All purchases are non-refundable.
HTLYS Live is an interactive event promoting positive change within social media platforms that focuses on health, wellness, and FUN in inclusive and relevant ways. Inspired by the online evidence-based program How to Love Yourselfie founded by Jillian Rose Reed.
Event Features:
7 Chairs Dance Performance – by world-renowned choreographer/master teacher, Alex Little
Cooking Demo by NOLA Chef Gason
Music by musician/singer/songwriter, Serena Laurel
Music by Canadian Singer, Adil C
Interactive Arts & Crafts "Selfie" Stations
Creative Play and Movement with Author/Fitness Expert, Krista Stryker
Loving Me Yoga with Wellness/Fitness Advocate & Lululemon Ambassador, Natalie Leon
HTLYS "signature" Lemonade Stand by actress, Jillian Rose Reed
In-N-Out Burger Meal 1pm – 2:30 pm**
Drumming Experience shared by UCLArts and Healing
Multi-media Art Installation with artist/director Jenna Keiper
Wellness brands, goodies, raffles, food/beverage, resources, celebs, influencers, and more!
This event benefits the nonprofit organization, Breaking The Chains Foundation, www.breakingthechainsfoundation.com
Breaking the Chains Foundation is a nonprofit committed to the prevention of body-focused and mental well-being stigma through the following:
Transforming research and personal stories into artistic programs aimed at increasing self-love, self-esteem, self-compassion, and self-acceptance; and
Using the power of the arts to foster creativity, build connections, and create a community in which individuals can thrive.
A Special Thanks to our HTLYS LIVE Event Sponsors!
Gold Sponsor
In-N-Out Burger
Plant Therapy
Silver Sponsor
Eating Recovery Center and Pathlight Mood & Anxiety Center
Keystone Treatment Center
Addion Online Marketing
Hello Bubble
Natural Tableware
Bronze Sponsor:
CLI Studios
Renfrew Treatment Center
Trisha's Cookies
Planet Breeze
Maverick Snacks
ADA accessibility is available: BTCF values inclusion, equality, and diversity. Please contact 818-406-9401, iambreakingthechains@gmail.com by March 4th to make a reasonable accommodation request.
email us at: iambreakingthechains@gmail.com