An Interview With Laura Barrett Larkins
"If you don't ask the answer is always 'no'" – unknown
I love this quote because I think a lot of people, women in particular, were not really taught that we are allowed to ask for the things we need and want in life. Whether that be asking for a raise, asking for help when you need it, asking for an introduction to someone who could show you a path towards getting where you want to go, etc. The worst someone can say is NO, and then you're still standing exactly where you were before you asked, nothing has been lost. – Laura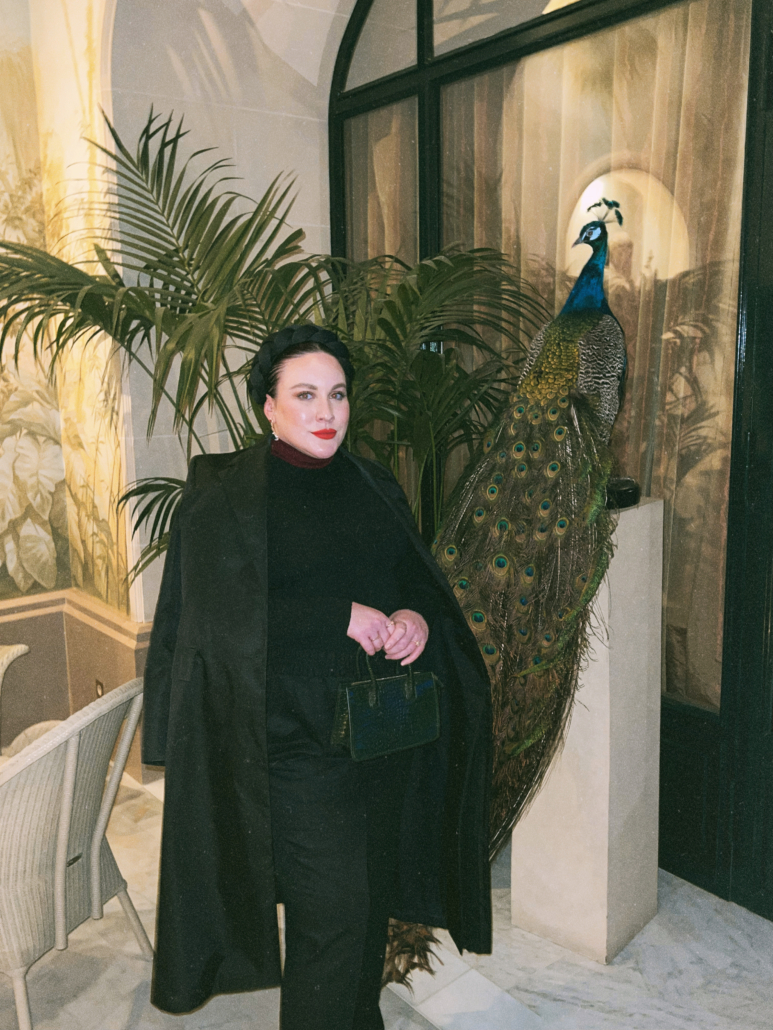 AN INTERVIEW WITH LAURA BARRETT LARKINS
BTCF:  In looking at all your do, how many hats do you wear?!  Do you have any favorite hats out of all of them and why?
Laura: Truly, I don't even know anymore. I've been an actress, a writer, a social media manager, and a photo content creator, I've even done wardrobe on a mini-series once! I think there's no limit to the amount of metaphorical hats a person can wear. I don't like to be put into a box. If it inspires me, I like to think I can meet the challenge and learn to execute any project.
BTCF: You were featured in Forbes when you lived in Los Angeles living in a log cabin and how that helped you at the time clear your mind and unwind.  Can you share a little bit about that and how you created a space that reflected your wellness?
Laura: I absolutely loved that apartment; it was such a find. I was at a weird place in my life at that moment. I was in an on-again/off-again relationship that was definitely going nowhere good. I was living in a loft downtown that was not rent controlled and becoming unmanageable financially, my cat whom I adopted when I was 18 passed away. It felt like I needed a reset. I saw SO MANY apartments and none of them ticked all of my boxes, it started to feel like I was going to have to sacrifice a few things (as we all do sometimes) to find a space I could afford. And THEN, this space popped up on HotPads. The photos were horrible… but it was in a neighborhood I liked, the price was within the budget, and it had a washer and dryer (and a dishwasher) in the unit… so I was like.. what the heck, I might as well see it.
When I walked into that apartment I almost cried. It was so cute. It was the "mother-in-law" unit below a massive log cabin-style mansion towards the back end of Silver Lake, the bathroom was huge, there was so much storage space, and the landlord was quirky but so so nice. I took it immediately.
Designing a place with literal log cabin walls felt a little daunting at first because your first instinct is to go woodsy, but I am a really colorful person and tend to lean towards 1970's style interior design, and I kind of thought… you know? Wood actually works with bold colors. So, I created a pretty funky space and I really loved it there. I'd move back into that place in a heartbeat if I could wizard it into having more bedrooms to fit all mine and my husband's stuff.
It's so important to create a space at home that feels like you! It gives you an escape from all the craziness. I actually have a checklist on my phone that a friend gave me years ago for anxiety that asks "Are you safe?" "Are you clean" "Does your space smell good" and things of that nature with gentle prompts to tackle one thing at a time until your physical being feels good.
My zodiac sign is Cancer, so I am naturally a homebody and welcoming spaces that are filled with art, candles, soft pillows and blankets, etc. are the key to my joy.
BTCF: The Dose of Bliss Podcast with Lindsay Hoffman you did is very interesting on why networking is so important.  This podcast is wonderful, btw! What does networking mean to you?  What are your top 5 tips on positive network building?
Laura: I think the key to networking is to stop thinking about it as networking. Stop thinking about what you want from a person or what you can give them and just connect over common interests. I personally think it's important to work with people who share your same values and vision so ultimately just being yourself will open more doors for you than forcing conversations with people who don't see you or understand you. It's important to be polite, professional, and all that but at the end of the day the real, meaningful partnerships come from discussions with like-minded individuals.
My top 5 tips would be to:
Approach people in a way that is organic and natural. When in doubt, everyone loves a compliment on their outfit.
Carry physical business cards. I know they are outdated in some ways, but it opens the door for the person on the receiving end to reciprocate with their contact information.
Always follow up. Send a follow-up email, DM, text, whatever. Let that person know you enjoyed connecting with them.
You never get what you don't ask for.
Being told no by one person is not the end of the world. No one person or even a group of people can stop you from achieving your dreams.
BTCF: Connecting to others in your work seems not just to be a work thing to you, it means more.  Can you explain why and how that is important to creating trusting relationships?
Laura: I love this question and honestly the answer is pretty simple, I don't want to work with people I don't like or don't trust. I think having lived in so many different places, that notion just came really naturally to me. Unfortunately, in this world, not everyone has your best interests at heart, so to me, there's nothing MORE important than building a network of people that is there to support you not only professionally but personally as well.
BTCF: Being a traveler, what is your favorite place you have ever traveled to and why?
Laura: Stockholm in the summer!! It stays light out until 4 AM during June and the sun is back up by 7 AM, it's wild and so cheery.
I also really really love Michigan in the summer. Being at my lake house in SE Michigan with my family is something I really cherish.
BTCF: You are the CEO of your own company, LeBL Creative Consulting.  So many young people aspire to do the work you do! Can you share what that is, the things you do, and three things you have done to build your business?
Laura: LeBL is mainly a consulting agency for creative digital content in the food, interiors, and lifestyle spaces. This came about after years of kind of just winging it to be honest and realizing that I needed to pull it together into something more professional. I had worked in the social media departments of a few different agencies but never really felt like I had very much creative control, so I decided to go out on my own. I am so grateful to Lyra Marble, the owner of Mr. Bones Pumpkin Patch because my business wouldn't exist without her to be honest. She took a chance on me as her freelance social media manager and when people started to comment on how great her Instagram looked, she sent my contact information to other people around town. She's wonderful, a true, real cheerleader for women, and someone I am so glad to have in my network. You really only need one or two people to open doors for you, and to trust YOURSELF.
I now also consult for New Familiar Creative as their Social Media Director!
BTCF: Being a creator is definitely in your DNA. Are there three ways that keep you organized that you can share and how do you make them work?
Laura: My Google calendar runs my life. I schedule time to create my own personal content. I personally work a fairly unorthodox schedule, I think a lot of creatives do (or at least want to), I am prone to intense bursts of productivity followed by a few hours of relaxation or personal time.
BTCF: You moved to LA in 2012 with very little money in your bank account and no job.  What was one of your hardest challenges and how did you overcome it?
Laura: I did! My parents were actually very against me moving to LA. It was too expensive. No one makes it as an actress. Blah Blah Blah. I love them but they are traditional job kind of people. They wanted me to be more sensible. I am headstrong though and made my plans to do it and at 23 they couldn't stop me. My dad bought me a $700 whole foods gift card, and my mom paid my rent for an apartment in Mar Vista 3 months in advance, which, I'll say, is more than a lot of people get, so I am grateful. It was harder than I thought it would be to get a job, but it was really easy to sign up for central casting and do extra work on TV sets, so that's what I did. Eventually, I got a job at the Counter (the burger restaurant) and I made enough to move a bit more central. After that, I got a job as an event planning assistant at Boulevard3 on Sunset Blvd, and I also was really lucky that at the time, my friend Lindsay (the girl interviewing me in the podcast) worked for an entertainment magazine and had an expense account, and she would take me out for nice dinners or parties whenever she was sent out to get some celebrity scoop, which really really helped me out. I think the biggest challenge was that I had to work a lot of odd jobs to survive and in the beginning really didn't have the time to dedicate to the artistic endeavors I moved there for in the first place. I learned a lot about how to survive on very little money though. To this day I can cook a pretty delicious meal with canned or dried ingredients from the dollar store.
BTCF: Presently, you live in the UK, yet have clients all over the world.  How do you manage your time when it comes to your own mental health and wellness?
Laura: I actually love my schedule. Most of my clients live in time zones that wake up later than do, so I get to sleep in a little, wake up naturally, spend my morning working on whatever passion projects I have (or you know, clean my house, or run errands, same thing), and then around 2 PM people start to flood my slack messages and emails. I work until around 7 PM most days, later if there are deadlines. I think the only odd thing is that my internal clock is always a bit off, because my schedule is not the same as the sun's schedule here in England, but I have always been a bit of a night owl, so it works.
BTCF: Moving around so much as a young child created issues with anxiety and depression for you.  Can you speak to what that looks like today in your daily life?  Any tips you can give those who struggle with those issues?
Laura: I think just always being the "new kid" was tough. As an adult it has manifested in ways such as, I feel the need to explain who I am and what I'm about in like, 1 minute or less so people can decide whether they like me or not. I ALWAYS rethink whether or not I said something "dumb" to a new person. I have a deep fear of being misunderstood because my story is "confusing". I don't fit in a neat little box. I don't have a hometown or a job that is easily summarized. Nothing about me really makes sense to some people, and that's ok… but also, I feel a deep need to feel understood so that can cause some internal conflict.
My advice would be to honor your own feelings but also remember that most people are busy worrying about the dumb things they might have said, not the dumb things you may have said. BREATHE. And also, there is no shame in seeking help or taking medication when necessary.
BTCF: In 2019, a devastating loss happened in your family.  How much did that play a role in your own mental health and relationships?
Laura: The death of my father changed everything, honestly. I was in a relationship with my now husband, and we knew that we were on the path toward marriage, we were fairly serious pretty quickly, but my dad passed away 5 months into us dating (and we were a long distance from LA to London) and Stuart hopped on a plane to come to my dad's funeral, never having met him, and was sort of thrown into my family dynamic with no warning. He knew I needed him there and that was that. I suffered a pretty dark mental health episode after that if I am being honest. There's nothing that can prepare a person for the totally unexpected suicide of a parent. There were also a LOT of secrets that came out in the aftermath of his death that were totally at odds with the person I knew to be my dad which threw me for a loop. It was my partner and my little sister actually who prompted me to get some meaningful help, and with that, I got on Cymbalta which changed my life for the better. My sister and I also started having a lot of deep, honest, and sometimes challenging conversations, which I feel has made us both a lot stronger.
BTCF: Can you share why you are such a fierce advocate for both suicide prevention and mental healthcare?
Laura: I am an advocate for suicide prevention and mental healthcare for a lot of reasons, but I strongly believe my dad would still be alive today if there had been less stigma around seeking help, and more education surrounding addiction, mental illness, etc. as medical issues, rather than a failure of moral compass.
BTCF: BTCF uses all forms of art as a process for healing.  How do you use any forms of your artistic expression to create healing in your life in real-time?
Laura: I love getting my hands a little dirty. I am terrible at pottery, but I love digging my hands into clay. I am very bad at painting, but using a paintbrush and paint is so soothing. I love taking photos and seeing the world through a slightly different lens. Anything to ground me or shift my perspective, I am all in.
BTCF: What are 3 tips you can share with youth today that are struggling in this social media world when it comes to body image?
Laura:
Only follow accounts that make you feel good, even if that means unfollowing or muting some of your real-life friends.
Remember that everything is curated, no one is showing the entirety of their lives and no one's life is perfect.
All bodies are beautiful, and focusing on your health and the nutrients you are getting is more important than how you look on the outside.
BTCF: Have you ever struggled with body image issues and if so, what are some steps you took in healing?
Laura: I think I will probably be on a lifelong journey of acceptance. When I was younger, I was underweight, and when I was 8 years old I got food poisoning at Disney World which triggered childhood OCD that left me afraid of eating. My little brain basically thought "If food can make me sick, then I just won't eat food". I lived on saltine crackers and chicken broth for probably a year…maybe 2. My parents put me on the 90's drug of choice, Prozac, and that leveled me out enough to eat and break some other OCD-related habits that I had developed.
When I was 19, I had a bout with bulimia because I had started gaining the "freshman 15" – I also went vegan – but not in a healthy way. My mom sent me to a clinic in Scottsdale, AZ called Banner Health that I am forever grateful to, they had really good mac and cheese.
Now I am in my 30s and on the opposite side of the scale, where I have been diagnosed with PCOS and have gained a lot of weight due to a hormonal imbalance and I am on a new journey of self-acceptance. I have the tools now to not spiral back into disordered eating, but I'd be lying if I said I didn't have days where I feel self-conscious about this new body of mine. I am learning how to style myself in new ways, I learned that having large boobs actually isn't all that it's cracked up to be.
My steps towards healing are to remember that the people who care about me don't care if I have gained a few pounds, learning how to cook was also a huge part of my initial healing because I know that food is not my enemy, and I am in control over what goes into it.
BTCF: Cats or dogs? Why?
Laura: I love both but I have 4 cats so I gotta say cats. They are strong-willed, independent (sort of, mine aren't haha), and so silly.
BTCF: Favorite recipe and why?
Laura: Oooo… I love making seafood gumbo, and I've gotten really good at it.
BTCF: What inspires you to get some of your best ideas?
Laura: I am inspired by a lot of things but lately it has been by Portuguese architecture and design. In general, I am inspired by a lot of historical elements, textiles, sculptures, etc.
Be sure to check out Laura's amazing website https://laurabarrettlarkins.com/
https://breakingthechainsfoundation.org/wp-content/uploads/2023/05/AfterlightImage-4-scaled.jpg
2560
1920
BTC
https://breakingthechainsfoundation.org/wp-content/uploads/2021/02/Breaking-The-Chains-Foundation-Logo-Circle-300x300.png
BTC
2023-05-10 10:04:23
2023-05-10 10:08:14
An Interview With Laura Barrett Larkins