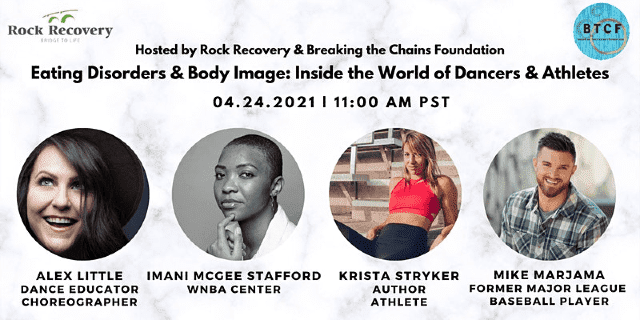 There's a lot of pressure for athletes to have the "perfect" body. Join us for a 90-minute retreat centered around healing & self-image.
About this Event
Over 28 million people in the United States alone struggle with an eating disorder, and millions more struggle with disordered eating and body image issues.
For many athletes and dancers, the pressure to maintain a certain physical image or to perform at peak athletic perfection can be the start of a dangerous battle with your body and mental health.
In this 90-minute online retreat, we invite you to join three incredible athletes and one dancer as they share their stories of how they have navigated their personal battles with a variety of struggles including eating disorders, body image, depression, anxiety and more.
Here's What You Can Expect:
Inspirational stories of healing and recovery
Tips and takeaways to offer you support as you navigate your own journey
Light movement activities to create balance and connection to your body
Access to a supportive mental health community
Amazing discussion and Q&A time with our celebrity panelists
Additional clinician support during the Q&A time with Elisa Thibodeaux
Chance to win a raffle prize
MEET THE BTCF PRESENTERS:
CLINICAL SUPPORT:
Elise Thibodeaux

Details:
Date: Saturday, April 24th
Time: 11:00 AM PST (2:00 PM EST)
Tickets are $15 and are open to individuals 15+. With your ticket purchase, you are automatically entered to win one of three raffle prizes (winners will be notified via email after the event). All proceeds from this event go to support individuals seeking recovery, community and healing from eating disorders.
Email Kristyn Soto at [email protected] for any questions or concerns.
Learn more about Rock Recovery at https://www.rockrecoveryed.org/.
Learn more about Breaking the Chains Foundation at https://breakingthechainsfoundation.org/.
About Rock Recovery: Rock Recovery strives to reduce stigma and spread awareness around eating disorders and provides affordable and transformational resources to those struggling and their support networks. Since 2009, the organization has provided clinical therapy (serving DC, MD, VA and CA) and community support to over 500 adults and families and educated 15,000 community members to seek help for themselves or their loved ones.
About Breaking the Chains Foundation:Breaking the Chains is a unified global non-profit foundation using art as the process to unmask the stigma of individuals affected by eating disorders & negative body image. Creative genres like film, painting, poetry, music, and dance will inspire the global community to use art as an outlet for the darkness that lies dormant providing a bridge to recovery and serving as a prevention platform toward a healthy journey to mental and emotional wellness. One by one, hand in hand, we will champion the rediscovery of self-love, self-acceptance, and respect — sharing a healing journey that will break the chains, one link at a time.
Special Thanks to our Promo Partners for this event!


A special thanks to our Raffle Sponsors:
All Aspects Apparel
Planet Breeze

IlluminaTeDance Studio