An Interview With Bailey Spinn
"Your now is not your forever" – Bailey Spinn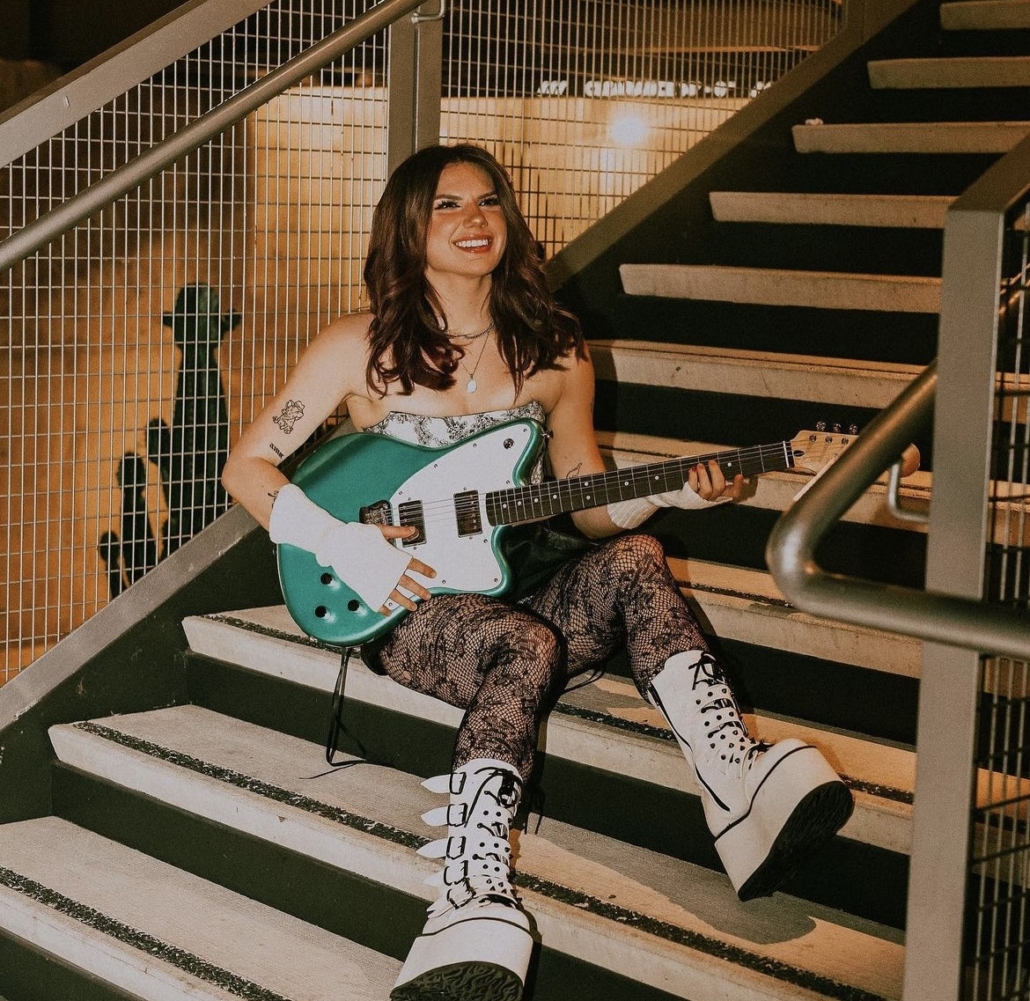 Photo credits: Aisley Herndon @aisley , Zoe Sher Photography @zoesherphotography , Flighthouse
AN INTERVIEW WITH BAILEY SPINN
BTCF: You have had a unique journey within your career, what are some of the most valuable moments you have encountered so far that have enriched your growth?
Bailey: One moment that challenged me to grow up is when my channel blew up for the first time. I hadn't been making content using my voice, and it was scary to try something new, but I'm so glad I did. Sometimes in order to express yourself better, you need to branch out. It took me a while to get used to hearing my own voice so much, but it elevated my content and improved my anxiety! Another learning moment was when I had to choose between continuing my education or pursuing social media full-time. As a kid my dream career was always to be an influencer, it was the only thing I saw myself doing. So, when I got the chance, it was hard to ignore. I packed up and moved to LA. I'm so glad I did because it elevated me and my career in so many ways. It was my first time living fully alone, I have learned so many things about being an adult and growing. One more thing that enriched my growth was when I finally overcame my anxiety around singing. I had also dreamed of being a singer, but I was so scared to show anyone my voice. Even when I started vocal lessons, some days I couldn't sing in front of the teacher. Anxiety is a really challenging thing to overcome, but I pushed it away so I could follow my dreams.
BTCF: With such a large social media following across TikTok and other various platforms, how challenging is it to create content that speaks to your craft as well as is entertaining at the same time?
Bailey: It has become pretty difficult; I've been making content basically every day for two years. Eventually, my mind started to run dry, but the one thing that always gave me inspiration was music. Whenever I'm feeling low on ideas or need some help, the right song can trigger a viral idea. Many sounds that I use today were posted because I had a great idea from the song. Coming up with new ideas is not easy, especially when I've done everything from the moon and back. I never doubt that the idea will come, but some days are harder than others.
BTCF: BTCF uses all forms of art to foster creativity, build connections and create a community in which individuals are able to thrive by transforming research and personal stories into artistic programs aimed at increasing self-love, self-compassion, and self-acceptance.  How does your art form speak to you and your fans about creating body acceptance?
Bailey: I always try to spread a positive message through my content. I like to show my followers my authentic self at all times. I will even show them parts of myself that I am insecure about so that they can feel better if they have the same insecurities. My platform is a safe space where everyone is welcome, and I like to make it clear to my fans that I love them. Showing that I'm confident in my own skin encourages them to do the same!
BTCF: You recently performed at Playlist Live in Orlando, congratulations!  Can you share a little bit about your experience and what that was like for you?
Bailey: This was a crazy experience for me and was totally unplanned. When communicating about my meet & greet at Playlist Live, someone made a typo in an email and asked if I wanted to sing. I told my manager, yes, but it turned out she was just talking about the signing, not singing. We got to Playlist Live and got settled in, when someone dropped out of their kickoff show last minute. Then they actually asked if I wanted to sing in the show, and I couldn't say no. I went back and forth with myself for probably 45 minutes. I agreed and then started trying to find songs I could sing comfortably in front of the crowd. I had never performed live in my life except for my 6th-grade talent show, so this was a lot for me. I didn't know how I would react on stage; I struggle with anxiety a lot and sometimes it turns to tears.
I practiced my songs and made my way backstage, full of excitement. Then I ended up performing with no struggle at all, my anxiety had flown out the window. It was in that moment that I knew I had chosen the right thing to do. Seeing people run up to the stage to support me and getting to show people what I love made me so happy. I was a totally different person on stage, full of confidence and light. It was a dream come true for me, and my younger self would have lost it if she saw that.
BTCF: You play a couple of instruments as well as sing!  What instruments do you play and when do you start?
Bailey: I used to play the trombone, flute, and viola! As of right now, the only instruments I play are the electric guitar and ukulele. I have always loved rock music and all the passion behind it, so I started playing the electric guitar. I started earlier this year with lessons and have not stopped playing it since. It's a very difficult thing to pick up but hearing myself play a song is so rewarding!
BTCF: Your passion for advocacy in areas of suicide prevention and eating disorder awareness is very important to you.  Can you share some of your passion behind your work and any personal story that motivated this passion?
Bailey: I have struggled with a lot over the years: poor body image, bullying, and so much more. It becomes consuming at some points, so I understand exactly how others feel. Struggling with an eating disorder is never easy, and it can really damage your relationship with food. I'm still trying to rebuild my relationship and promote healthy eating habits to help myself. Mental health has always been important to me since I struggle with it myself, and I like to share my story, so others know they aren't alone. I've dealt with suicidal thoughts, self-harm, and a lot that impacted me while I was so young. Sometimes it feels like life won't get better, but I want to share so people know that it does. Life will improve whether it takes a year or five years. You have to keep pushing through and find joy in doing things that you love instead of focusing on the negative. People can be struggling, and no one will ever know until it's too late. My goal is to help out by showing everyone how much life has to offer you and that you have so much to do.
BTCF: What are 3 self-care tips that give you peace of mind and nurture your day?
Bailey: My first tip is to drink more water. Drink more water than you think you need; your mind and body will improve from it. I always get headaches if I don't drink enough water. Also, you should always give yourself breaks; you aren't a robot. If I'm stressed out while filming, I'll step away for a second and let my mind rest. My final tip is to spend time making yourself feel beautiful! Whether it be a cute outfit, some makeup, fixing your hair, or anything else, it will improve your mood. I always feel my best when I look my best!
BTCF: Social media can sometimes be a tricky area around the appearance ideal and how it affects those who find themselves engaged in it to a point of creating barriers to their wellness.  How do you navigate through this all and what are some tips you would like to share with your younger fans around dealing with the pressures of appearance ideal?
Bailey: To me, there is no appearance ideal. The standard for beauty was created only to make us feel lesser than what we are. Not everybody is the same, so not every person can look the same. It's difficult to scroll online every day and see people who look like Barbies, but that doesn't make you any less beautiful. There is no standard for beauty because you create your own path. You do not have to follow what other people think is beautiful. Look at yourself every day in the mirror and repeat "I am beautiful, and I am worthy" this has helped me so much to grow my confidence.
Comparison is the killer of joy, and if you keep comparing yourself to other people you won't be happy. Be confident in yourself and take pride in what you love to do instead!
BTCF: What types of songs inspire you and how do you choose the ones you cover?
Bailey: I'm usually inspired by songs I can relate to, most of the time the genre doesn't matter to me. I'm all about lyrics, if I can relate to what the artist is singing about, I'm all ears. I always cover songs that really mean something to me, whether they helped me through a dark time or just bring a smile to my face. I also like to choose songs that make me feel comfortable, so I can really feel what the artist means because it makes it easier to sing!
BTCF: Are you writing your own music and any news on when it will be released?
Bailey: Yes! I have been writing so much music for the past couple of months. I've been at the studio every week working on what I've done, and it's so exciting! As of right now, the goal is to have my music released by early 2023! I can't wait for everyone to hear what I've been working on.
BTCF: What would you share with your younger viewers on how to begin creating body acceptance content on social media?
Bailey: Don't be afraid to show your flaws! Posting the parts of yourself that you may not feel as confident with allows you to show others it's okay to not be perfect. No one person is perfect. I always find comfort when I see people posting who look like me or share the same struggles. Be accepting of yourself for every part that you have. Don't be scared to show everyone your true self, people love authenticity. Post that video you feel beautiful in and ignore any comments saying otherwise. The internet makes it really easy to hate on people anonymously, but being bold and confident can conquer it all.
BTCF: Do you create your art design for your photos?  What inspires you when doing so?
Bailey: I don't create the art for my photos. I have a wonderful team that helps bring my concepts to life. It all depends on what I'm feeling for the day!
BTCF: What would be your dream venue to perform at and why?
Bailey: Definitely the main stage at Coachella. I went for the first time this year and seeing everyone crowd around for the sets made me so happy. Having support like that would be an absolute dream for me! Coachella was such a fun experience that made me realize where I wanted to be in five years. Watching people on the biggest stage there made me want to be like them. It was amazing hearing the crowd chanting and joining in on the music. I've never seen so many people crowded around at once!
BTCF: What is the importance of comedy in your content and why?
Bailey: I like to keep my content lighthearted, and comedy helps me to do that. When I was younger my mom would always pull me out of my mood with a joke, bringing an immediate smile to my face. I want to be able to give someone else around the world the same feeling. My videos are goofy and fun because I want people to feel comfortable watching my content. Sometimes all we need is a little story to calm us down, which is exactly what I do! I love making people laugh even if I don't get to see it…plus I know my parents would be so proud of my humor.
Thank you, Bailey, for chatting with us!
https://breakingthechainsfoundation.org/wp-content/uploads/2022/11/Bailey_photo-cred-Aisley-Herndon-@aisley.jpg
924
951
BTC
https://breakingthechainsfoundation.org/wp-content/uploads/2023/09/BTCF-Logo2-transparent.png
BTC
2022-11-11 09:14:24
2022-11-11 09:14:24
An Interview With Bailey Spinn