No Wait, That's Grief Virtual Symposium
No Wait, That's Grief Virtual Symposium – Click to Register (FREE)  
Nov 18, 2022 | 8:30 AM – 4:30 PM PST / 11:30 AM – 7:30 PM EST
VIRTUAL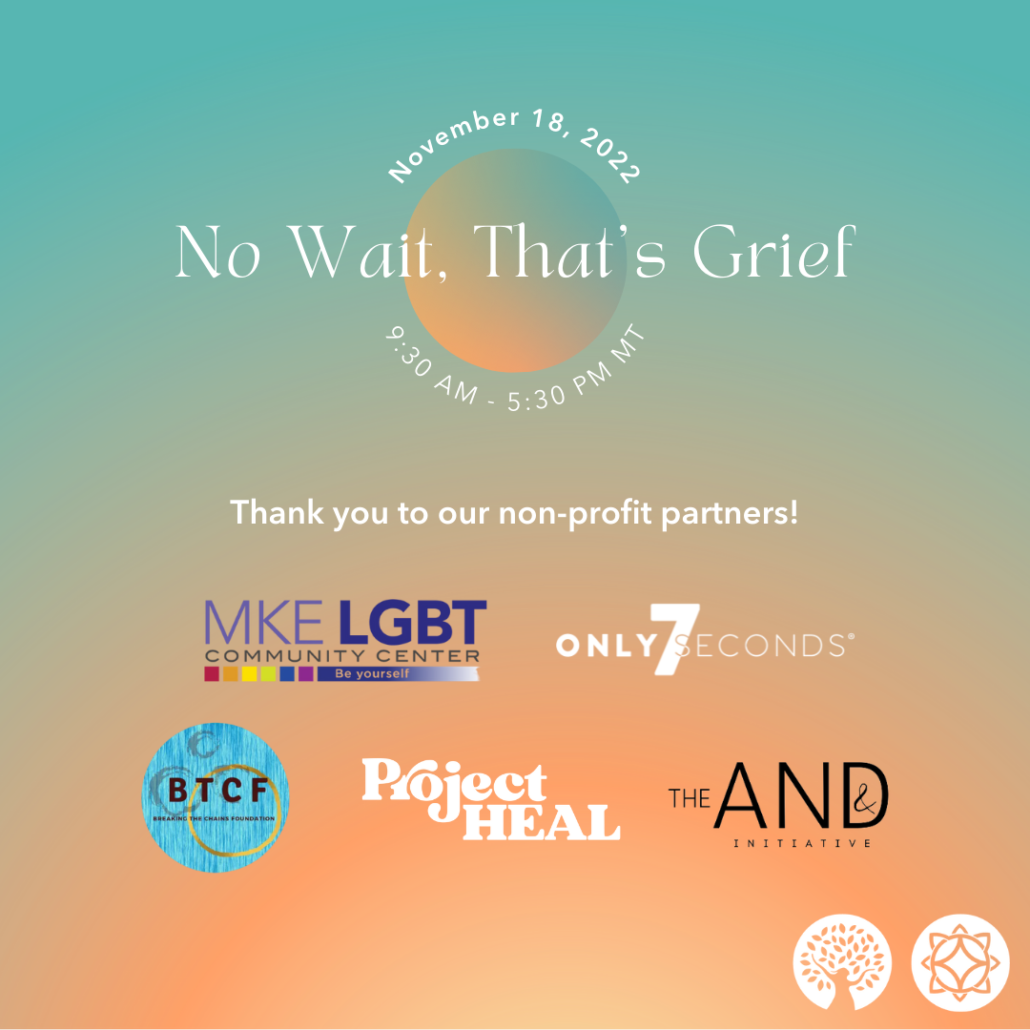 Grief is a universal experience and is not limited to losses through the death of a loved one. For the purposes of this event, and in an effort to generalize the grief experience to better encompass a wide variety of lived experiences across an individual's life.
Presentations will feature lived experiences from many points of view, accompanied by a grief professional to help guide the conversation toward the feelings of grief that were experienced and honored, or ignored and internalized. Attendees will have an opportunity for live Q&A with the lived experience speaker.
Featuring speakers from nonprofit organizations across the country including Only7Seconds, Project Heal, Breaking the Chains Foundation, The AND Initiative, and the Milwaukee LGBTQ Community Center, Eating Recovery Center and Pathlight Mood & Anxiety Center offers this unique opportunity to process alongside individuals as they explore how grief is deeply woven into their own lived experiences.
8:30 AM PT – Welcome and Introduction to the Grief Perspective and how it can be used to support individuals across many different lived experiences to validate and honor losses along their journey
9:30 AM PT – Speaker 1 Rebecca Eyre, Project Heal
10:30 AM PT – Speaker 2 Ricardo Galaviz, Milwaukee LGBTQ Community Center
11:30 AM PT – Speaker 3 Jayne Mattingly, The AND Initiative
12:30 – 1:00 PM PT – Optional Break Out Discussion Sessions / Lunch
1:00 PM PT – Speaker 4 Debra Hopkins, Breaking the Chains Foundation (4 PM EST)😊
2:00 PM PT – Speaker 5 Vik Chopra, Only7Seconds
3:00 PM PT – Grief Perspective Q&A
3:30 PM PT – Optional Afternoon Break Out Session
4:00 PM PT – End
https://breakingthechainsfoundation.org/wp-content/uploads/2022/11/Debra-Hopkins.png
1080
1080
BTC
https://breakingthechainsfoundation.org/wp-content/uploads/2023/09/BTCF-Logo2-transparent.png
BTC
2022-11-23 07:58:44
2022-11-23 11:53:32
No Wait, That's Grief Virtual Symposium