An Interview with JJ Shegog
"You don't have to be a man to fight for freedom. All you have to do is to be an intelligent human being." -Malcolm X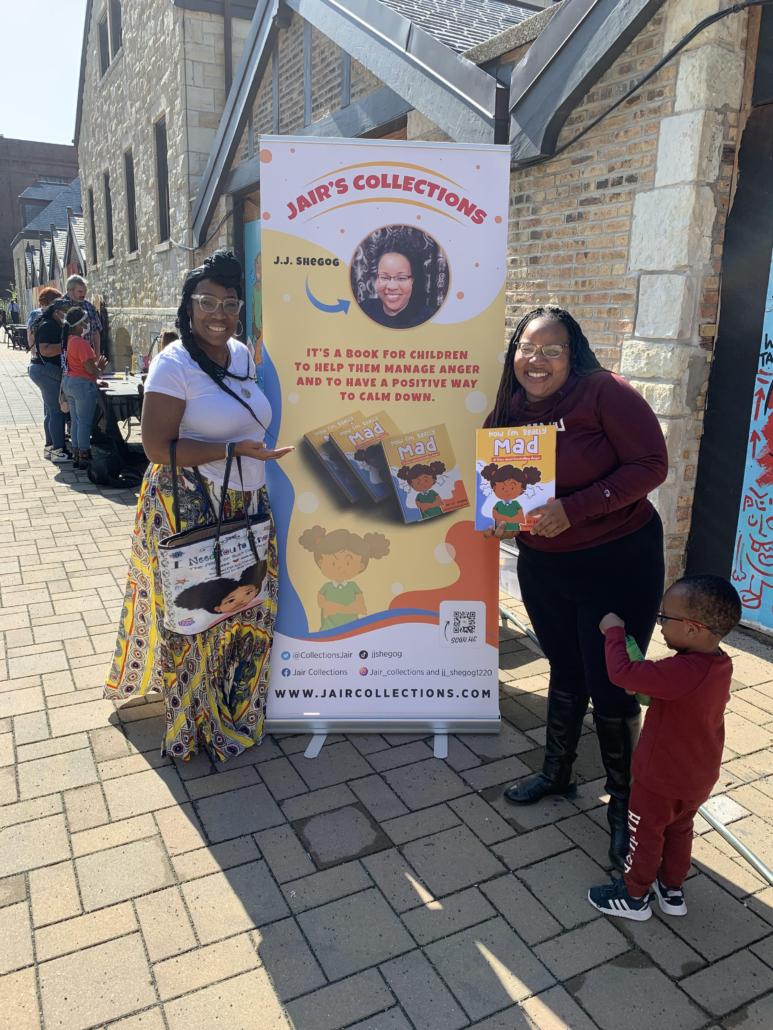 AN INTERVIEW WITH J.J. SHEGOG
BTCF: Being a former teacher in Chicago, what were some of the challenges you experienced?  How did those experiences inspire you to shift gears in your career?
JJ: There were many difficulties teaching in inner city schools- funding, resources, and parental involvement, but the biggest hindrance for me was the lack of focus on concrete and consistent social emotional curriculum. This greatly impacted my decision to author children's books with social emotional themes.
BTCF: Generational trauma is something that some might not think impact our youth today and can get overlooked.  From your experiences as an educator in the Black and Brown community, how important was it to you to create resources for those you served?
JJ: It is my whole purpose. I can count on one hand how many books I read to my students that featured them as main characters, and even less for those written by a Black Author. It is important that they see themselves in depictions, navigating stressful situations successfully.
 BTCF: How did writing become your form of artistic expression?  How did you get started and what were some forms of writing you did before publishing your first book?
 JJ: I always loved writing. From journaling as a kid to writing poetry as an adult. It is my favorite form of expression.
BTCF: Teachers can say just one thing or use one word to a student that has the power to create positive or negative impact in their lives.  Sometimes even change the course of a young person's life.  How important was it for you in choosing the words you used when communicating to your students? Why?
JJ: I always thought the saying "sticks and stones may break my bones, but words will never hurt me" saying was false. People will never forget how you made them feel from your words. Some children come to school with tough home lives, so what you say can make or break a student. It is important to choose words carefully and responsibly.
BTCF: Breaking The Chains Foundation uses all forms of art and artistry as healing tools, creating a bridge to recovery for those who struggle with eating disorders, disordered eating, and negative body image issues. Can you share a little bit about your art and how it has impacted healing for the community you so beautifully serve?
JJ: I'd like to think it has shed light on the stigma around mental health issues. In my community, some may see me as a success, so when I share my struggles with bulimia, post- partum, and other stressors, it makes it more acceptable and normal. It is starting to be less associated with failures and being insanity.
BTCF: Can you share a little bit about how you started Jair Collections, LLC?  What inspired the name?
JJ: Jair's Collections is named after my son – Jair. I wanted to build something that would include him now.
BTCF: In your book "Now I'm Really Mad": a story about controlling anger geared toward Grad K – 3rd grade, the story takes on an adventure with a little Black girl, Rita and her problem controlling her anger.  How did you come up with the character and what inspired the subject matter?
JJ: Rita is named after my mom. I used to make up stories for my son at bedtime. He only knew a few words and I would use the words he knew in a story and add a few he could pick up on from my expressions; then he would laugh and laugh himself to sleep.  Then I started to wonder how my mom's life would have been if social emotional learning was a thing in her time, rural Mississippi. And that's how the stories came about!
BTCF: Your books have been sold at some very amazing businesses.  There is a photo of you with your son at The Museum of African American History in Chicago.  What was that experience like for you that day? How do you think it impacted you as a creator, educator, and parent?
JJ: That day was amazing! It felt like I had reached a new level and milestone in my career already! And it gave me more motivation to keep writing books for Black children.
BTCF: Your book speaks to the emotional regulation of the young Black and Brown communities where you not only have created a story, but it is a dynamic resource for young people, their families and loved ones filled with self-help and interactive worksheets and affirmations. Can you share a little bit about these additional resources you have added into your book?
JJ: I envisioned every book from Jair's Collections to have this model that aligns to the story. I do this to give families more to do and focus on after the story, together as a family.
BTCF: What are the top five things you are passionate about in life and your work?  Why?
JJ: My faith in Jesus – He is the reason I am where I am today. My son – He is my blessing from God. My family- They are beyond supportive of me. Cooking- I love creating great food that makes you feel good and loved. Healing – I am advocate for healing from past traumas
BTCF: Is there anything you would like to say about how your creativity in writing is and was a healing tool to you?  In what way?  Or would you like to share anything about the importance of reaching out even to a loved one? – how important it is to change the stigma in the black community when it comes to eating disorders and body image issues?
JJ: I'm thrilled you like it! I'm an open book! I'm not afraid to discuss anything I've been through. When I finally had the courage to tell my family about it as a teenager, the 1st thing they said is what TV show you been watching? We don't do that! They're like "We don't have enough food for you to be throwing away."  And yes, it was definitely a healing tool and something I knew I was good at doing. I was confident in that and focused on those things.
I actually stopped writing for a while but when the pandemic hit, I found myself slipping back into my old habits with Bulimia. I went back to therapy and started back writing but this time Children's books. And these stories truly helped me heal. My family really got on board with helping defeat it. My sister scheduled workout video calls to do with me and my cousins.
It is very important to remove this stigma because it's a cry for help. And to be honest one of the worst things you can do in a Black family is be "fat" or "gain weight" you will be talked about heavily, as if that will solve the problem. I want to bring awareness to child shaming overweight children because that only contributes to the problem. I believe it's better to do more heart activities together as a family and make routines then just make fun of the obvious.
BTCF: How do you define stress and being able to tell the difference between negative and positive stress?
JJ: Stress is a feeling of being overwhelmed and it is a normal part of life. Good stress doesn't last long, it inspires you, motivates you and commissions you to move outside of your comfort zone to achieve something. Bad stress wears you out, leaves you jittery and confused.
BTCF: What are 3 things you do on a daily basis to help engage your mental wellness with respect?
JJ: I recite affirmations to myself, read something new, and spend time with my creator!
BTCF: Anger is a natural human emotion – how we respond to anger can attribute or have negative impact to our mental health? How can people take steps to tap into other choices they have in how they respond?
JJ: There are many things we can do but if we can learn the 90 second rule that is a great start. Generally, it takes 90 seconds for an emotion to pass or lose its intensity. If we can learn to wait 90 seconds before responding, we can avoid doing or saying something we'll regret later.  A great thing to do with this is deep breathing.
BTCF: Do you have any news to share?  Things coming up? Any new books?
JJ: Yes, we have a huge Kickstarter launching Tuesday, February 1, 2022, at 8am, during Black History Month. It features the follow-up to "Now I'm Really Mad: Dealing with Anger" titled "Silly Little Squabbles: Dealing with Conflict." Jair's Collections is an independently ran publishing company therefore, we do not have a heavy endowment; we find creative ways to raise capital. This Kickstarter allows us to offer pre-orders and raise enough funds to purchase high-quality versions of our books! If anyone would like to check it out, go to www.sillylittlesquabbles.com !
https://breakingthechainsfoundation.org/wp-content/uploads/2022/02/JJ-scaled.jpg
2560
1920
BTC
https://breakingthechainsfoundation.org/wp-content/uploads/2023/09/BTCF-Logo2-transparent.png
BTC
2022-02-01 12:31:32
2022-02-01 12:33:53
An Interview with JJ Shegog